Make a difference in your farm community!
Do your part to educate your community about farm safety and health. We'll even give you the money to do it. Every year I-CASH has funds available for small grants to community youth groups for farm safety-related projects.  In addition, I-CASH awards an Outstanding Youth Grant Award and the winners are invited to the annual Midwest Rural Agricultural Safety and Health Conference to present their project.   The 2023 Outstanding Youth Grant Award went to Central Community FFA in Elkader, Iowa.  Students organized and implemented a UV safety project. Through grant funds and other partnerships, FFA members gathered resources and materials to help farmers learn and practice sun safety. Materials included sun screen, SPF chapstick, hats, and more. The students then traveled around to farms in their area and delivered the UV safety materials and lunch to to farmers as they worked on haying and other tasks in the hot sun.
The message of farm safety and health can be delivered in a variety of ways. We encourage creative projects!  Here are some examples you may consider:
Distributing ear plugs, sun screen, and healthy snacks to farmers at harvest time
Distribute SMV (slow moving vehicle) signs at the local implement dealership, using the opportunity to talk with farmers about roadway safety
Make a poster about hearing protection for the county fair and hand out ear plugs and brochures
Speak with farmers while they wait in line to drop off grain at the local co-op – pass out a fact sheet about respiratory health and distribute N95 respirators.
Produce a YouTube video about safely sorting cattle, using the funds to purchase props for demonstrations, special makeup, or editing software
Hold a local essay or poster contest about ATV safety and give away ATV helmets to the winner.
Develop livestock safety manuals and signs for county fair participants.
Applications will be reviewed by members of the I-CASH advisory board. Criteria for selection will be based on objectives and use of funds. One project will be selected for the Outstanding Youth Grant Award which will be presented at the 2023 MRASH conference in mid-November . Funding will be available for travel and expenses to attend the meeting. A cash award will also be given to the top project.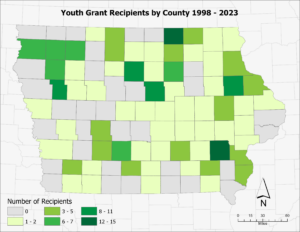 Grants are only available for youth groups/organizations in Iowa.
Applications for the 2024 grants will open in January!
Best Practices for Farm Safety Days
Farm Safety days can be a great way to help young people understand hazards on farms.  For those grant recipients organizing safety days, we strongly recommend you consult the following resources to ensure that you use the best curricula available to share the farm safety message.
For more information or assistance with this program, contact Tabitha Kuehn at tabitha-kuehn@uiowa.edu or 319-467-0327.