Off-road Vehicles (ORV), which include All-Terrain Vehicles (ATV), Utility Task Vehicles (UTV), and Recreational Off-Highway Vehicles (ROV), are important tools in agriculture.  However, these vehicles are also associated with high rates of injuries and fatalities, in both work and recreational use.
In Iowa, ORVs are prohibited on most roadways; however, there are legal exceptions for occupational use, including use in agriculture.  In summer 2018, I-CASH worked with researchers at the University of Iowa Hospitals and Clinics to develop a resource that showed the guidelines for occupational use on Iowa roadways.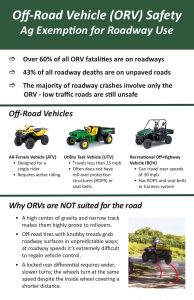 Iowa Code states that ORVs can be operated on Iowa public roadways for agricultural purposes with the following limitations:
Operator must have a valid driver's license
Speed must not exceed 35 mph
Operation must occur between sunrise and sunset
While the Iowa occupational exemption is important for farmers traveling between fields, it is important to note that ORVs are not designed for roadway use. As a result, using them on roads is inherently unsafe and operators should take extra precautions:
Be as visible as possible by purchasing a brightly colored vehicle and wearing bright clothing
Display a fluorescent orange flag on ATVs at least five feet above the ground
ALWAYS wear a helmet.  Among ATV injuries in Iowa, those wearing a helmet were 80% less likely to have suffered a head injury.
Use seatbelts in ROVs and do not have additional riders on ATVs
If the ROV has the ability to unlock the rear differential, do so before traveling on roadways.
Related Safety Watch Article:
Precautionary advice for ATV handling on roadways, Mandy Archer, May 2023
Man Counts Good Fortune Following ATV Accident, Stephanie Leonard, Iowa Farmer Today, May 2019