Approximately 2.1 million Americans suffered from an opioid misuse disorder in 2016 according to the National Survey on Drug Use and Health. Since 2000, the Midwest is one of the regions that has experienced the greatest increases in opioid-use deaths. Pain is a leading cause of physician visits in the United States, and although opioid medications are sometimes needed, non-opioid management may also be appropriate. Non-opioid pain management may come in the form of  management without medications like physical therapy or non-opioid treatment such as over-the-counter medications. When opioid medications are needed, proper storage and disposal should be considered. Medications should be stored securely, out of sight, in a cool, dry location. When pain medications are no longer needed they should be disposed of properly through a drug take-back program or at-home drug disposal system that neutralizes drugs.
In spring 2019, I-CASH distributed an informational card about managing pain without the use of opioids as well as how to safely store and dispose of medications. Additionally, ISUEO and FSA offices in Iowa received medication disposal pouches for distribution that safely inactivate unneeded medications. Additional information on pain and medication management can be found below.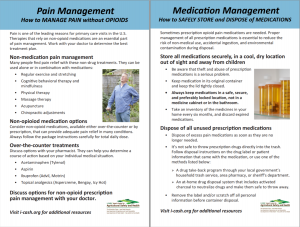 Pain Management Resources:
American Society of Anesthesiologists: Non-Opioid Treatment
American College of Osteopathic Family Physicians: Ways to Manage Your Pain Without Opioids
Medication Management Resources:
Your medications may help someone else. Visit SafeNetRX for details on donating your medications
Environmental Protection Agency: How to Dispose of Medicines Properly
National Geographic:  How you should dispose of unused or expired medications.
Opioid Information Resources:
Iowa State University Extension and Outreach: Understanding the Opioid Crisis in Rural and Urban Iowa
UI Injury Prevention Research Center: The Prescription Opioid Crisis
American Journal of Public Health: Understanding the Rural–Urban Differences in Nonmedical Prescription Opioid Use and Abuse in the United States