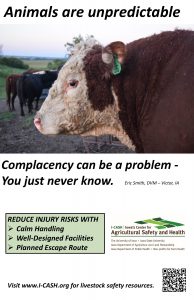 I-CASH has resources related to a range of agricultural safety and health topics.  Click on the links below for more information about each topic.
Additional materials are available on our Seasonal Campaigns page.
Can't find what you're looking for?  Contact us or find additional resources from our partners on the web.
I-CASH partners with researchers at the University of Iowa College of Public Health, the NIOSH funded agricultural centers, state agencies, and others to develop effective, evidence-based prevention messaging and educational materials.  Read more about our process in our June 2017 Alive and Well Newsletter.