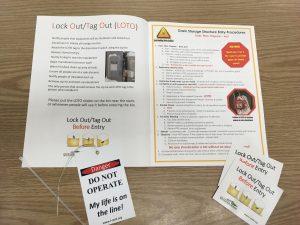 Grain engulfments and fatalities have been a steady challenge for the agricultural industry over the past years.  Higher yields, larger storage facilities, and equipment that can move grain more quickly create an increasingly hazardous environment.  A 2017 surveillance report from Purdue University shows a ten-year average of 31 fatal grain entrapments per year, with the highest rates occurring in the Midwest.  The researchers note that because there is no mandatory incident or injury reporting system for much of agriculture, rates are likely underreported.  They estimate that about 30% of non-fatal cases go unrecorded.
A critical component of safe grain entry procedures is "Lock-Out-Tag-Out" (LOTO).  Standard in most industries, and required by OSHA in many worksites, LOTO procedures ensure that workers are not injured by unexpected energy release or equipment start-up during maintenance or repair procedures.  In a grain bin scenario, this refers to de-energizing all unloading and conveying equipment.  Prior to entering a bin, all grain moving equipment should be shut down and locked with a padlock or restraint that holds the equipment in a safe or "off" position—that's the lock-out part.  Second, a bright and visible tag should be attached indicating that the equipment should not be energized, unless by an authorized person (the tag-out part).  The Grain Handling Safety Coalition recommends using LOTO before any equipment maintenance or service and before any grain bin entry.  They note that failure to lock-out-tag-out is a leading cause of grain bin fatalities.
In Fall 2018, we sent Lock-Out-Tag-Out kits to all ISUEO and FSA offices in Iowa.
Click the images below to download and print the kit materials, or contact us for reprints: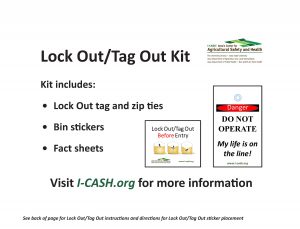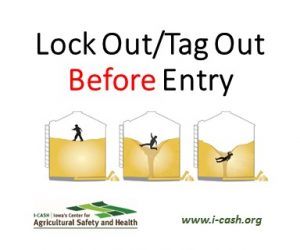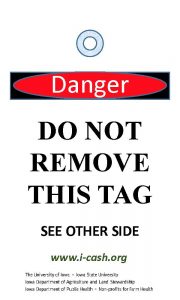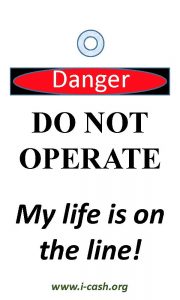 Related Safety Watch Article:
Consider safety in grain bins of all ages and sizes, Brandi Janssen, April 2022