The Summer 2023 campaign focuses on safe mowing and reducing the number of mowing injuries. We complied resources from a variety of sources, listed below, to create an easy to use booklet that covers many aspects of mowing safety like PPE, youth safety, and mowing conditions. Click here to download your own copy and prepare for safe mowing this summer and for years to come.
Mowing is a responsibility that is often times given to kids, so many of the resources in this booklet address youth safety. However, the resources in this book can be applied to all age levels and safe mowing habits should be practiced by everyone, regardless of age.
I-CASH Mowing Safety Booklet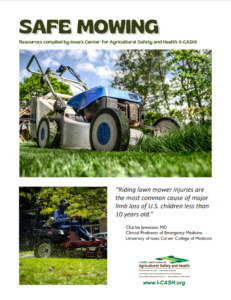 Many resources were used to create this booklet. Please check them out below. Also linked are additional mowing safety resources that we recommend checking out.
Resources from Booklet
Cultivate Safety: Operating a Lawn Mower
American Academy of Pediatrics: Mower Injuries
St. Luke's: Keeping Children Safe around Lawn Mowers
Additional Resources
OSHA Mowing and Trimming Safety Manual
Lawn Mower Safety Card UW Health
Lawn Mower Safety Brochure Nationwide Children's
Lawn Mower Safety Tips- UI Stead Family Children's Hospital
Family advocates for lawn mower safety after incident: Tate's Story
Lawn Mower Safety Factsheet CIPA
Related Safety Watch Article:
Keep safety in mind when mowing ditches, Brandi Janssen, August 2021
Mowing Mistakes On Slopes Can Claim Lives, Limbs, Stephanie Leonard, Iowa Farmer Today, July 2019